CMMR 2019 Artistic Program Overview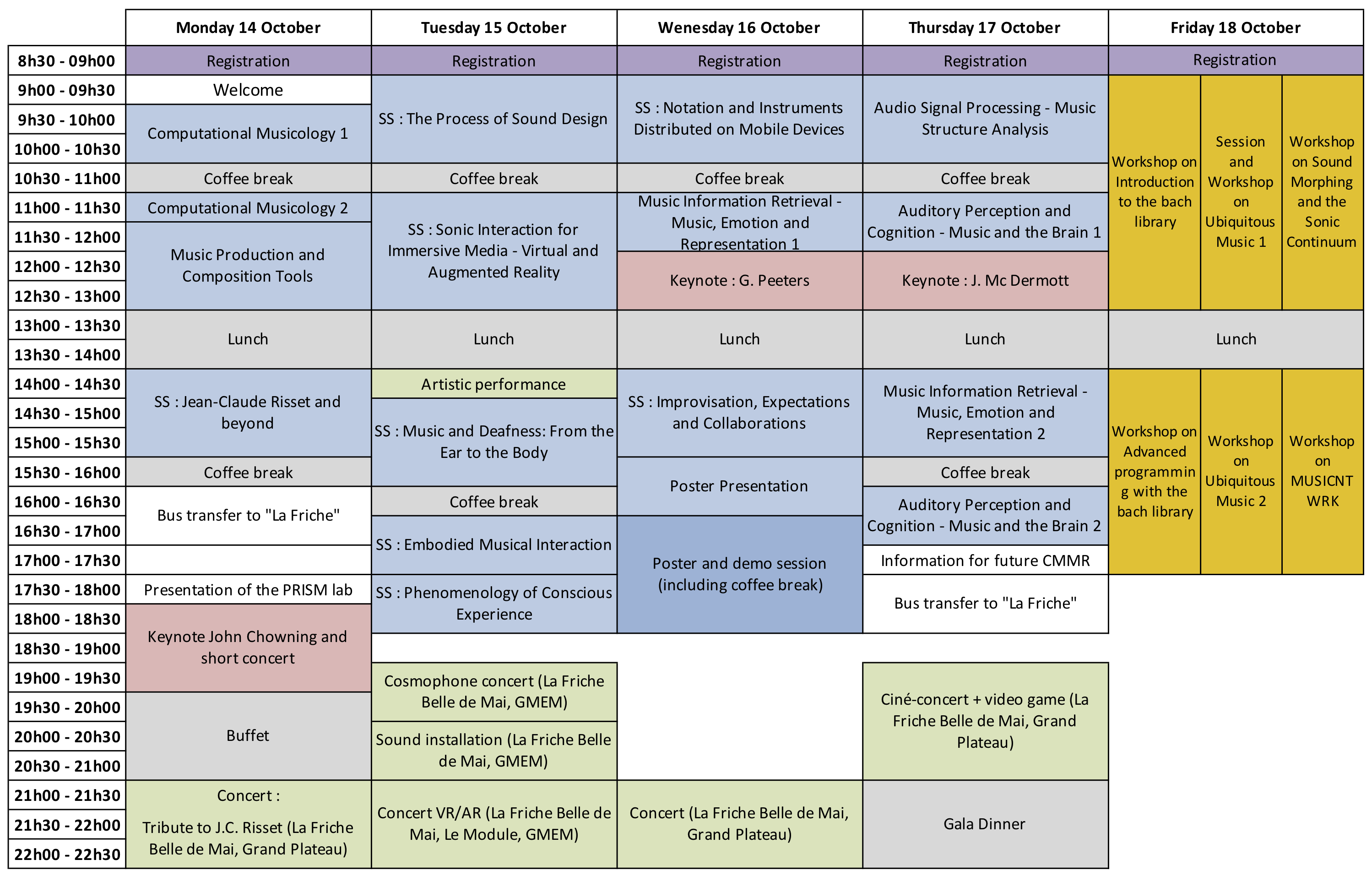 Ongoing artistic events
October 15th, 16th and 17th between 14h and 18h at "La Friche" (GMEM) :
October 14th to 19th (on demand) at Campus Joseph Aiguier:
Monday, October 14th
La Friche, Belle de Mai, Grand Plateau:
'Celebration of the PRISM Lab and Tribute to Jean-Claude Risset'
17:30 - 18:00 Presentation of the PRISM lab and tribute to J.C. Risset
Richard Kronland-Martinet, Vincent Tiffon
18:00 - 18:45 Keynote : John M Chowning
19:00 - 19:30 Short Concert



Turenas (1972)
John M Chowning
8 esquisses in duet for a pianist (1989), for piano Disklavier and computer.
Jean-Claude RissetHélène Pereira, piano



19:30 - 21:00 Buffet (hosted by the PRISM Lab)
21:00 - 22h30 Concert: Tribute to J.C. Risset



Mutation 1 (1969)
Voilement (1987), saxophone and electronics
Joël Versavaud, saxophoneCharles Bascou, electronics
Luraï (1992), celtic harp and electronics
Alice Belugou, celtic harpCharles Bascou, electronics
Saxatile (1992), saxophone and electronics
Yui Sakagoshi, saxophoneCharles Bascou, electronics
Attracteurs étranges - excerpt of 2 mvt + 5th mvt (1988), clarinet and electronics
Ivan Solano, clarinetCharles Bascou, electronics
Naka (1971), soprano, flute, clarinet, piano, percussion
Raphaële Kennedy, soprano
Shao-wei Chou, flûte
Ivan Solano, clarinetHélène Pereira, piano
Damien Louis, percussion


Tuesday, October 15th
Campus Joseph Aiguier:
14:00 - 14:30 Vidéomusique



Constellations
Julian Scordato
Un été
Claude Moreau & Jean-Pierre Moreau



La Friche, Belle de Mai, GMEM:
19:00 - 20:00 Cosmophone Concert

The Cosmophone is an immersive device which detects ambiant cosmic rays and instantaneously materializes their trajectories through sound.
During the concert, 4 works for Cosmophone are proposed by

Jean-Marc Montera : Intracables No 1
Lucie Prod'Homme : Plus loin que l'infini
Francis Dhomont : Metamuons
Marco Buongiorno Nardelli: The Messengers, a CosmOpera (avant-premiere, 2019)
Music and video by Marco Buongiorno Nardelli
Libretto by Ken Eklund and Marco Buongiorno Nardelli after the FutureCoast Project
Cosmophone by Claude Vallée
Technical realization by Gaëtan Parseihian
20:00 - 21:00 Installation, Foyer
21:00 - 22:30 'Augmented, Virtual and Mixed Reality', Le Module

Foreword: "Augmented, virtual and mixed reality: whatever the categories, the body in motion remains the obligatory passage of recognition. The body plays, it learns. The dance at the origin would be that: the body that plays in its simplest expression." [Norbert Corsino]

Delearn
Atau Tanaka
Trois Machins de la Grâce Aimante
Rob Hamilton
Self Patterns
n + n Corsino
Wednesday, October 16th
La Friche, Belle de Mai, Grand Plateau, 21h:
'Research Project - Contemporary Music'
At and across, Genesis software and bells sheep (electroacoustics)
Juraj Kojs
Take your time… hurry up!, flute and electronics
Shao-Wei Chou, flûte
Vincze Davor Branimir
ægo
Scurto Hugo, Axel Chemla, Romeu-Santos
Partitions distribuées en réseau, web score with Marseille Labo Band (Jean Marc Montera) and Mit Allen Augen.
Jonathan Bell
Thursday, October 17th
La Friche, Belle de Mai, Grand Plateau:
'Interactive Music'
19:00 - 20:30 Cinema/Game-Concert, original creation for CMMR 2019.
Christophe Héral

The music for the image class of the Cinema and Audiovisual Master Programme (Aix-Marseille University), directed by Christophe Héral (UBISOFT) with Antoine Gonot and Konstantinos Alevizos (AMU) will perform their compositions facing the a projected animated film (Péripheria, directed by David Coquard-Dassault) and different musical video games with various levels of difficulty (Rhythm Game, Musical Platformer, etc.)


20:30 - 22:30 Gala Dinner at "Les Grandes Tables"
Friday, October 18th
Campus Joseph Aiguier:
'Ubiquitous Music' workshop



I mballakkeri for MIDI-operated piano and electronics.
Marcello Messina
Ntrallazzu 6 for voice, electronics and live score.
Marcello Messina